Equity markets track lower after Wall St falls
Public Health England has approved an antibody test from Roche, which could mean easing lockdown restrictions sooner. A junior health minister described it as a 'game changer'. We shall see – the record on testing so far has been sketchy but it's a step in the right direction. Russia has also announced positive trials of a treatment drug favipiravi, which was first developed under the name Avigan in Japan. Despite some good news around these drugs however, it seems markets are waking up to the economic reality at last.
US Treasury yields fell and equity indices rolled over, with the S&P 500 down 1.75% at 2820 and the Dow dropping 500 points as hopes for a swift recovery from the Covid-19 recession faded.
Fed chair Jay Powell painted a pretty gloomy picture, He warned that additional policy measures may be needed to avoid an extended period of low productivity. He is erring towards doing more not less. Nothing explicit on negative rates, just repeating the preference for not using them.
As we near the end of earnings season, the recent gains look like over exuberance. David Tepper, a billionaire hedge fund guy, said it's the second-most overvalued market ever – only '99 was worse. Certainly at 20 times forward earnings, it looks pricey – the priciest in 18 years. Earnings in Q1 for S&P 500 companies are down 14% and are seen weaker all year, with Q2 especially hard hit. Already this is the 4th quarter in 5 of year-over-year earnings declines. Valuations are starting to look exceedingly optimistic at these levels – 2600 on SPX is a lot more realistic than 3000.  We may not retest the lows, but a significant pullback from the post-trough highs around the 61.8% level seems likely.
At the lows SPX tested the 2790 level, the 50% retracement. MACD crossover confirmed.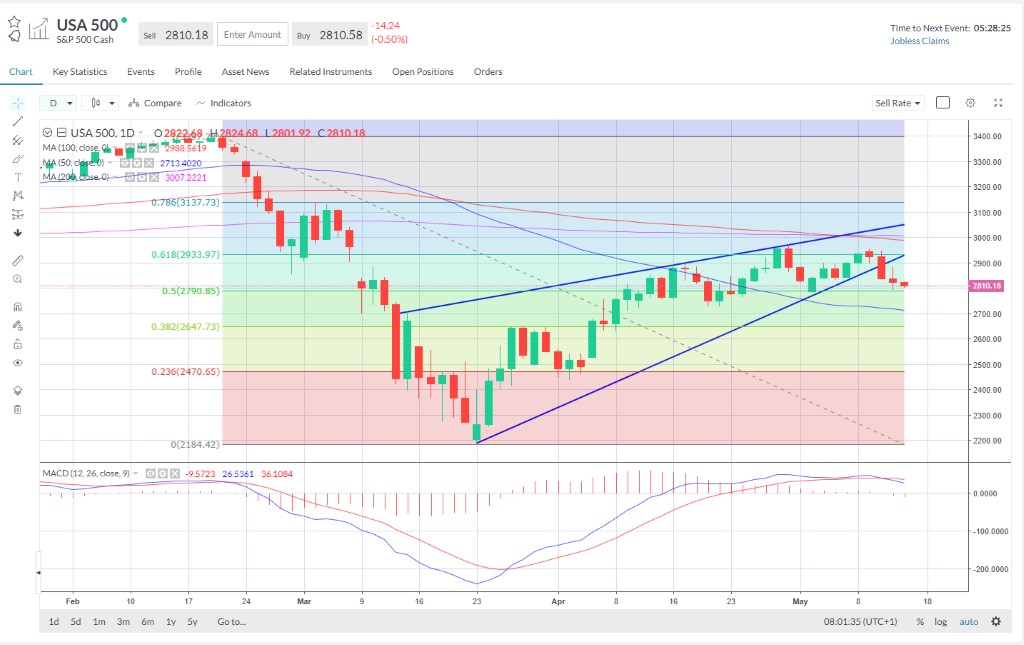 Asian markets tracked the fall on Wall Street and European bourses traded broadly weaker on Thursday.
WTI and Brent futures spiked after a surprise draw on US oil stocks but have pared gains. EIA figures showed a 745k barrel drawdown vs an expected build of more than 4m barrels. Stocks at the key Cushing, Oklahoma hub fell by 3m barrels, the first such draw since February.
The Commodity Futures Trading Commission warned brokers and clearing houses "to prepare for the possibility that certain contracts may continue to experience extreme market volatility, low liquidity and possibly negative pricing". The June WTI contract expires on May 19th.
In FX, the pound weakened further as the risk-off trade hit currency markets. Andrew Bailey, the Bank of England governor, said markets' basic assumption was that there would more QE.
GBPUSD breached the 1.2250 support and headed for the bottom of the range and is now on track to knock on the Apr 6th low around 1.2160.