Hong Kong turmoil risk roils markets
Shares in Hong Kong plunged on fears Beijing's tough stance will spark fresh pro-democracy protests, potentially leading to the kind of widescale unrest we saw last year.
The Hang Seng slid over 5% as China imposes controversial national security legislation that bypasses local lawmakers. The move was taken as China's National People's Congress convenes. Carrie Lam, the Hong Kong chief executive, says the territory will fully cooperate with China.
This is a potentially significant flash point that will stir local protests and will anger the US. At a time of already strained relations between China and the West, this decision will only isolate Beijing even more. Investors will need to add renewed Hong Kong-Beijing tensions into their mix of geopolitical risks, whilst the way it fits into the broader US-China rivalry will be closely watched.
The risk-off tone fed into European trading with the FTSE 100 off almost 2% at 5900 in early trade on Friday.  Asia-focussed banks HSBC and Standard Chartered were among the laggards. UK retail sales plunged 18.1% in April, led by a 50% decline in clothing sales. Online shopping rose to a record 30.7% of all retail – good for the nimbler retailers with good online operations, not so encouraging for the rest.
US stocks closed lower on Thursday, with the S&P 500 down 0.78% to 2,948. Having nudged to the top of their respective ranges, indices are retreating to more comfortable levels for investors given the state of the economic damage and uncertainty over earnings. Futures indicate Wall Street will open lower.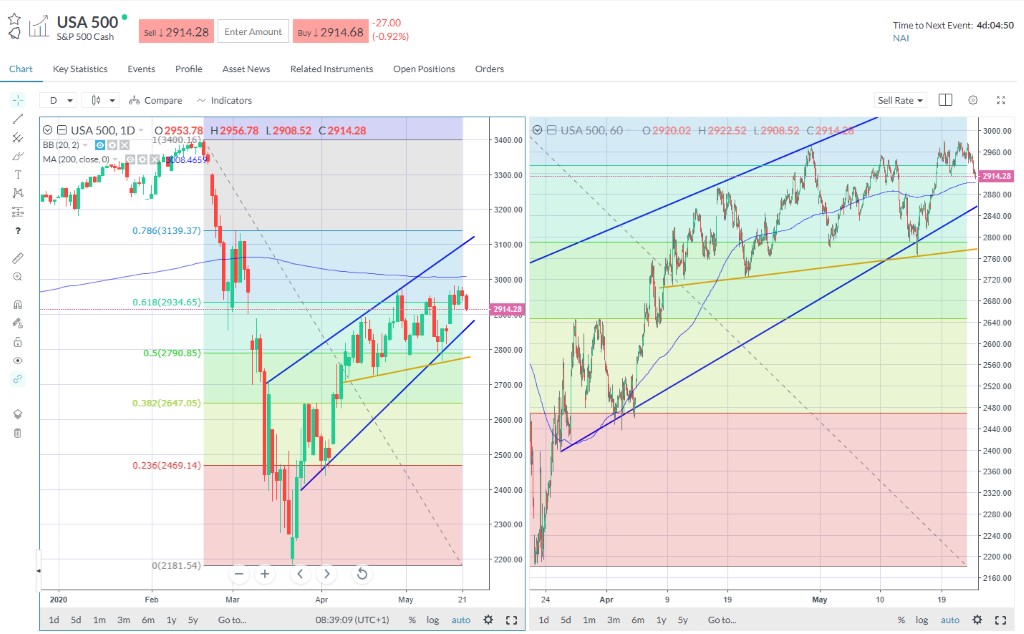 US initial jobless claims came in at 2.4m as expected and was the lowest reading since March. It takes the total jobs lost since the crisis began to almost 39m. Now we need to look at the continuing claims rather than the initial claims counts. It certainly raises hopes the jobs market has bottomed – the bulk of jobs to be lost have already been lost.
As various US states reopen and business gets going again, we ought to see hiring exceed firing. The key will be how swiftly the hiring replaces lost jobs – it's hard to see the 39m being replaced as quickly as they were lost. Temporary layoffs will become permanent as businesses slowly reopen and find demand down and cash flow a problem.
Data compiled by software company Envestnet Yodlee shows Americans used their stimulus cheques to buy stocks. Middle income earners – those on $35,000 to $70,000 a year – were the main drivers. This chimes with the view that the bounce off the March lows was driven by incremental retail buyers, not a return of positive institutional flow.
The US manufacturing PMI also showed some mild improvement as did the European and UK numbers, but as mentioned yesterday, this was off a very low base and numbers still indicate sharp contraction.
In FX, the dollar is bid as risk-off sentiment rules. EURUSD broke 1.10 yesterday but retreated as it looked to test the 200-day resistance a little above the round number. Cable moved back under 1.22 at 1.2180.
Having rallied Thursday to $35, crude oil (WTI Aug) slipped sharply overnight, breaking the trendline, as China's NPC decided to scrap its GDP target for 2020. It suggested Beijing is not about to really stimulate infrastructure investment like it has in the past. Markets, in particularly commodities, were looking for more.