Oil tumult worries investors as equities retreat
Gyrations and anomalies in the crude oil market grabbed all the attention yesterday, Rightly so, as West Texas Intermediate (WTI) crude – the US benchmark – tumbled into negative territory for the first time ever. Prices plunged at one stage to -$40, before climbing back into positive territory.  It was a staggering event.
A few things need to be considered. First this only related to the May contract which was about to expire and had become very illiquid as major trading desks had given up on it several days prior. CME Group data indicated volume of 122k for May contract vs 780k for Jun. Two, the Jun contract remained much firmer, albeit it too was dragged lower towards $20.
You need to bear in mind that Nymex WTI is a physical contract – if you hold it expiration you need to take delivery. Normally as you approach expiration of a futures contract, traders simply roll their positions over to the next month without any fuss. What we saw yesterday was very much a roll over problem – traders holding the May contract couldn't find any buyers because no one with the ability to take delivery wanted it.
This is because of the collapse in physical demand for crude products like petrol and jet fuel, which means the storage capacity at hubs like Cushing, Oklahoma is near to 'tank tops'. So, what we got was a severe dislocation as paper traders found they had to offload positions without any liquidity or bid in the market. A unique event, but one that reflects how financial markets can become very dysfunctional very quickly when things go bad.
And whilst it wasn't a good day for the oil majors, Chevron and Exxon Mobil fell around 4%, hardly the meltdown suggested by the front month implosion. The kind of dislocation witnessed yesterday, however much some may downplay it, points to a fundamental problem in oil markets, namely a lack of storage capacity and demand. But it also shows the market trying to do its job, forcing the price down enough to shut production. The problem is closing down production sites is not that easy and not cheap, so producers are desperately trying to avoid it.
Donald Trump says he will add 75m barrels to the US SPR – always one for a deal. OPEC is said to be looking at cutting oil output immediately, rather than waiting until next month. You should note that Brent is much more stable, albeit still pressured to the downside, as OPEC+ cuts are due to take effect and storage constraints are less pronounced.
WTI – for Jun – was down testing the $20. It's hard to see how it can hold up against the immense pressure from the lack of storage.
Equities are only 15% from their February all-time highs, but the world seems 'more than 15% screwed up'. That's how Howard Marks, the co-founder of Oaktree Capital Management, summed up the current state of the bear market rally whilst talking to CNBC yesterday.
The S&P 500 finished the day lower by 1.8%, with futures pointing lower again today and now under the 50-day moving average. European markets are softer, with the FTSE 100 trading under 5700 but remains in the bullish channel, with support coming in at 5600. The DAX is testing trend support around 10,500.
Germany 30 Cash, 1-Hour Chart, Marketsx – 08.16 UTC+1, April 21st, 2020
In FX, the pound retains its bearish bias with GBPUSD making fresh lows overnight before bouncing back into the horizontal channel that has dominated since last Wednesday. The 1-hr MACD may be about to show a positive move. Price action is anchored on the lower Bollinger band.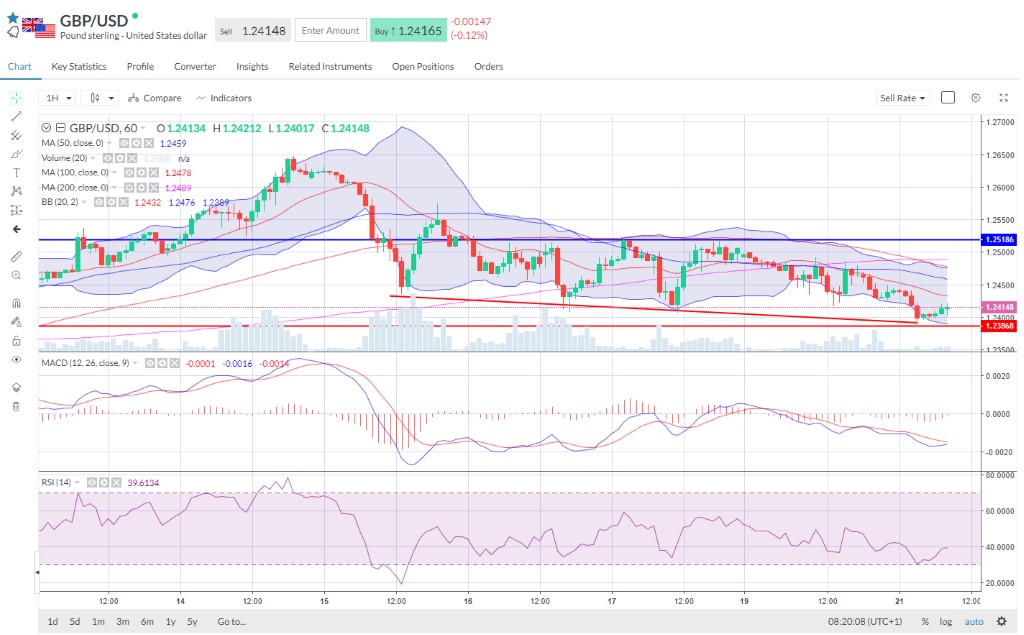 GBP/USD, 1-Hour Chart, Marketsx – 08.20 UTC+1, April 21st, 2020
UK unemployment figures were a lot better than expected, with the claimant count change up just 12k vs 170k expected. Unemployment emerged at 4%, up from the 3.9% before while average earnings fell to +2.8% vs 3% previously. There will be a lot of hope that the furlough scheme is working, and the UK government support is enough to prevent an unemployment crisis. But a lot depends on how quick you end the restrictions.