Stocks grind higher, dollar squeeze continues
The S&P 500 is down less than 5% for the year and is 40% above its pandemic trough, whilst the forward price-to-earnings multiple has risen to a two-decade high at 22.4. US GDP is seen falling by an astonishing 52.8% in the second quarter, according to the Atlanta Fed.
Whilst this number is always up for a lot of debate, it's clear the contraction in the second quarter is going to be massive. Something has to give – but perhaps not yet.
Stocks are continuing in a grind higher with major indices marking new post-trough peaks and global stocks catching up with the US market, whilst the dollar continues to be sold in an unwind of the Covid-inspired rally. The lifting of lockdown restrictions combined with enormous central bank support means investors are shrugging off little things like collapsing GDP and worsening US-China tension.
The FTSE 100 cleared last week's peak and extended gains on the open this morning to trade around 6290, through the 50% retracement of the peak-to-trough decline. Bulls are now looking to close the gap back to the March 6th 6400 handle.
IAG, InterContinental, Tui and Carnival are the top gainers, indicating all you need to know about this rally – deeply oversold stocks finding bid on hopes that travel restrictions are easing across the globe, particularly in Europe. Having wrestled with the 61.8% retracement, the DAX has cleared its own hurdle with the 200-day moving average now below as it advances beyond 12,100.
The S&P 500 moved to 3,080 and is now eyeing up the March bull trap double-swing highs above 3100 where the market came off and tried to rally before the main collapse.
FX market news: dollar retreat continues
In FX, majors are advancing steadily against the dollar and risk proxies are doing well with the Aussie and Kiwi trading at levels not seen since Jan/Feb, before the crisis really hit. Sterling continues to make ground up as GBPUSD approaches 1.26 and eyes a breach of the Apr double top, which could open up the path back to 1.30. EURUSD has risen above 1.12, breaking above the 61.8% retracement, which clears way back to the 50% line at 1.1450. The dollar index slipped further after breaking down at the 61.8% retracement.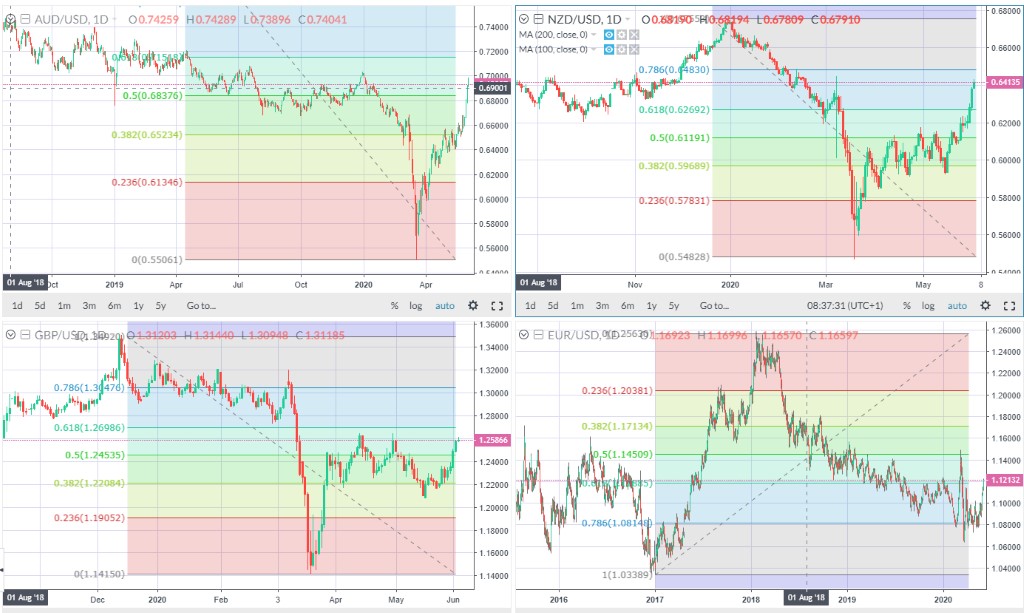 Of course, sterling is also exposed to Brexit risks and on that front, there does seem some vague optimism that this week could see progress. I wouldn't hold my breathe. The UK services PMI will show little improvement from last month as the survey is yet to capture any kind of lifting of lockdown restrictions. Next month's survey will be important to show how quickly confidence is returning.
Today's other data: US ISM non-manufacturing seen at 44.2 vs 41.8 previous, ADP nonfarms expected at –9m. Then it's time for the weekly crude oil inventories from the EIA, which are expected to show a build of 3m barrels.
Crude oil rises on hopes OPEC will extend record production cuts
Crude oil continues to make new highs with prices advancing on hopes OPEC+ will agree to keep its deepest level of cuts in place for longer. OPEC and Russia will decide tomorrow whether to extend the 9.7m bpd of cuts carried out in May and June, which were due to be tapered to 7.7m from July.
Additional voluntary cuts by Saudi Arabia, UAE and Kuwait actually took headline cuts to 11m bpd in June, although we know compliance of 75% in May offsets the extra. If OPEC+ fails to agree to extend these cuts the market will be liable to sell off sharply. Even a one-month extension might not be enough, even though of course it would help rebalance oil markets more quickly.
WTI (Aug) rallied before losing steam at $38 as a draw on US crude oil inventories also buoyed bulls. Whilst the focus is still on the EIA figures today, API numbers showed a draw of 0.483m barrels compared with a build of 8.7m barrels last week.