US Presidential Election: To Vote, or Not to Vote – That is the Question
As the 2020 US Presidential Election creeps into view, the United States is a country divided. With polarisation increasingly prominent, and ever-stronger partisan loyalty, the famed 'floating voter' is nearing extinction.
Whilst almost 40% of the electorate identify themselves as independents, these figures hide a residual bias which exists in most. Recent research has found that 93% of the electorate have some sort of partisan lean, with only 7% considered truly neutral. This illustrates the desire of many American voters to be considered independent, even if they are almost certainly going to vote for the same party in every instance.
And yet, conventional wisdom tells us that the most successful campaigns are those which reach out the middle ground and win over these floating voters. If the aforementioned research is correct, such a strategy may no longer be effective.
Instead, we suggest that turnout is the key to victory in modern US elections. The most important decision a voter can make is not who to vote for – for the vast majority this is a foregone conclusion. Rather, the voter choice that really matters is whether to vote at all.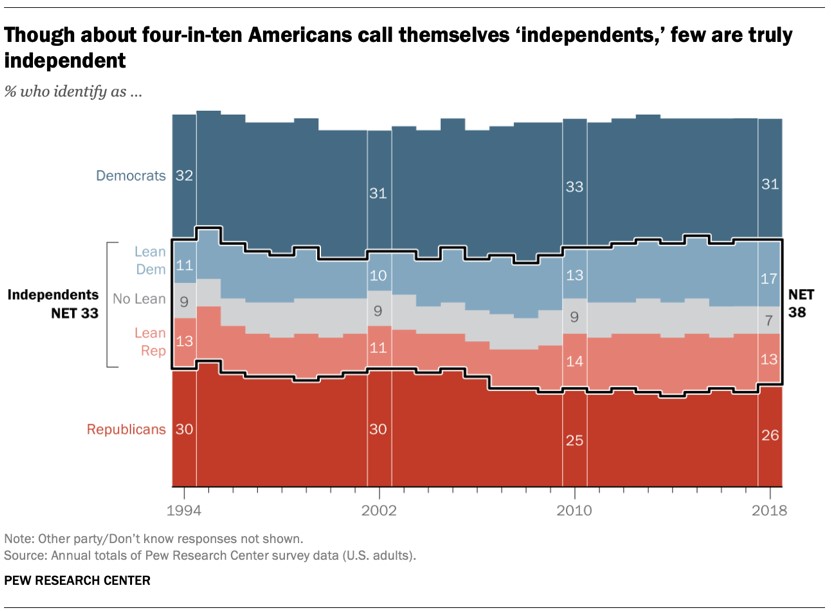 One need only look back to 2016 to exemplify this point, where Hillary Clinton lost the election by less than 100,000 key swing state votes. By comparison, 4.4 million people who voted for Obama in 2012 didn't vote in 2016, more than enough to overturn Trump's wafer-thin victory.
Some research has even suggested that, had turnout remained at 2012 levels, Clinton would have won 323 electoral college votes – enough to deliver her the White House comfortably. In states such as Michigan, Wisconsin, Pennsylvania, Florida, and North Carolina, it was a failure to turn out their own voters which scuppered Clinton, not a failure to win over the centre.
Can Democrats recover African American vote?
The challenge for the Democrats in this election year, both at the Presidential and Congressional level, will be to recognise this as the root of their failure, and to take action in response. In particular, rebuilding African American turnout could prove decisive, after the 7% drop which occurred between 2012 and 2016.
Perhaps Biden's choice of VP is a recognition of the importance of African American turnout. Although Kamala Harris is unlikely to provide an Obama-sized boost to African American enthusiasm, she may go some way to bridging that gap.
This is especially likely in the context of the Black Lives Matter movement, which could also help to increase turnout among minority demographics.
Which campaign will adapt best to mail-in ballots?
The prominence of mail-in ballots could throw a spanner in the works, though, with campaigns having to radically change their Get Out the Vote operations in response to the new circumstances.
Whereas previous elections have seen a focus on last-minute voter outreach, the early registration deadlines will mean that a longer-term strategy is required. The campaign which adapts to these changes most effectively will gain a critical edge come election day.
To vote, or not to vote: that is the question. The answer will decide who resides in 1600 Pennsylvania Avenue come 2021.