Week Ahead: Covid-19 to hit sentiment, can discounters thrive?
A raft of sentiment data, US goods orders figures, and earnings from discounters well-positioned to thrive during the current economic downturn will be the focus of financial markets in the week ahead. Here's your full break-down of the top events to watch. 
German confidence heading higher? UK, NZ sentiment predicted to drop further
There is plenty of sentiment data available this week, with the German Ifo Business Climate, GfK Consumer Sentiment surveys for Germany and the UK, the US CB Consumer Confidence report, and the latest ANZ Business Confidence survey for New Zealand in the docket. 
The mood is expected to have improved in Germany, where lockdowns were lighter to begin with and so the expected economic hit shouldn't be so severe. Schools and small businesses have reopened, and the return to some kind of normality is expected to lift sentiment from its historic lows. 
It will be a different story in the UK, where the bulk of restrictions remain in place. A sharp rise in unemployment will also weigh on sentiment, with even workers shielded by the government's furlough scheme left uncertain about their future once the Treasury stops paying their wages. 
Meanwhile, although the New Zealand economy has reopened, the latest ANZ confidence survey is expected to show another weakening in business sentiment.  
This may not truly reflect the current mood, however, as the government last week announced fiscal stimulus equal to over 20% of GDP to jump-start growth, and predicted a return to pre-Covid-19 levels of joblessness within two years. 
Flash CPI: Germany and Eurozone
The collapse in oil prices and the continued stimulus efforts of the European Central Bank will weigh on the latest inflation figures from Germany and the Eurozone this week. 
Price growth in the Eurozone slumped from 0.7% to a four-year low of 0.3% in April, finalised data last week confirmed. The collapse in crude oil prices was largely to blame; the more stable core reading slipped to 0.9% from 1% year-on-year. Food, alcohol, and tobacco prices rose. 
While many of the Eurozone's major economies slipped into deflation, price growth remained firmer in Germany. Another bout of data like that this week could fuel further tensions between the Eurozone's powerhouse and its central bank, who were arguing over the legality of its asset purchasing programme. 
US durable goods order
s
 to collapse further, unemployment to hit spending
US durable goods orders tumbled in March. Orders plunged –14.4% on the month, with a collapse in transport orders, particularly commercial aircraft, largely responsible. 
Forecasts for April suggest a further –25% decline. Personal income and spending figures later in the week could also show another large drop. Income declined -2% on the month during March, while spending dropped a record –7.5% as people complied with stay-at-home orders. With 20 million Americans losing their jobs in April, the next set of income figures is likely to show a larger collapse. 
Japan unemployment rate, flash industrial production, retail sales
A slew of data from Japan on Friday will give a broad view of how the economy is faring, although we already know it's in a recession. Unemployment is expected to have climbed to 3.2% during April, from 2.5% in March. Retail is expected to continue to shrink on the month, with the rate of decline slowing from –4.5% to –3.2%. Preliminary industrial production data will show whether the –5.2% year-on-year decline recorded in March moderated last month. 
Earnings: 
Discounters 
expected to fare well on 
consumer stockpiling
Discounters Costco, Dollar General, and Dollar Tree all report earnings this week. Consumers rushed to buy the essentials during Q1 and tightening budgets and surging jobless rates could help drive demand in the long run.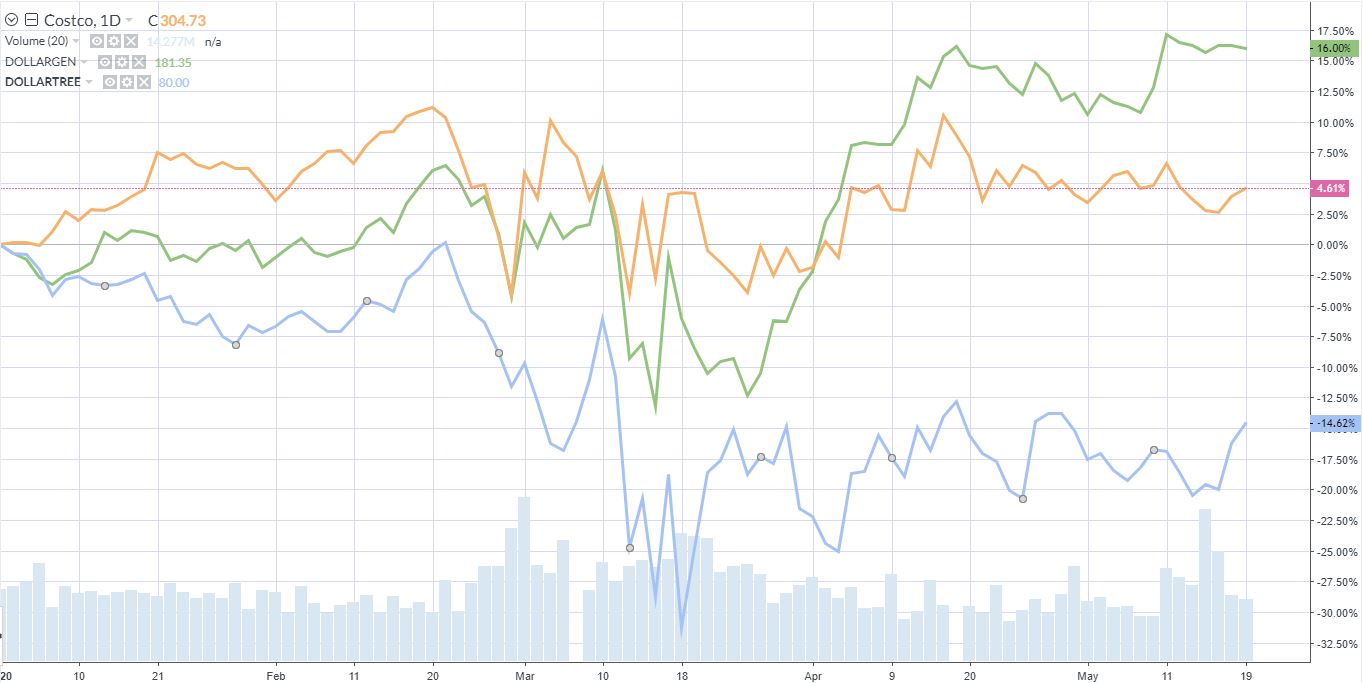 Costco, however, has other business interests that may continue to feel the pain of the stalling economy and social-distancing measures; stagnation in its food courts, travel services, and optical services wings dragged comparable sales down –4.7% on the year in April, even as demand for consumer staples surged. 
Dollar Tree announced that it would bring on an additional 25,000 staff to help it cope with the increased demand in its stores and distribution centres. Earnings will take a knock from the decision to suspend online sales for seven days towards the end of March, which hit revenue by almost 20% during the period. Online is where other retailers like Walmart have been able to make up for falling instore sales volumes. 
Dollar General is the clear winner in terms of stock performance, having gained 16% since the start of the year. Costco is nearly 5% higher, while Dollar Tree, which performed well during the last recession, has slumped nearly 15%. Goldman Sachs initiated the stock as a "Buy" last week.
Heads-Up on Earnings
The following companies are set to publish their quarterly earnings reports this week:
| | | |
| --- | --- | --- |
| Pre-Market | 27-May | Royal Bank of Canada |
| After-Market | 27-May | Autodesk – Q1 2021 |
| After-Market | 27-May | Workday Inc – Q1 2021 |
| Pre-Market | 28-May | Dollar Tree – Q1 2020 |
| 14.00 UTC | 28-May | Dollar General – Q1 2020 |
| After-Market | 28-May | Salesforce – Q1 2021 |
| After-Market | 28-May | Costco Wholesale Corp – Q3 2020 |
| After-Market | 28-May | Dell Technologies – Q1 2021 |
Highlights on 
XRay
 this Week
Key Economic Events
Watch out for the biggest events on the economic calendar this week:
| | | |
| --- | --- | --- |
| 08.00 UTC | 25-May | German Ifo Business Climate |
| 06.00 UTC | 26-May | German GfK Consumer Climate |
| 14.00 UTC | 26-May | US CB Consumer Confidence |
| 01.30 UTC | 27-May | Australia Construction Work Done (Q1) |
| 01.00 UTC | 28-May | New Zealand ANZ Business Confidence |
| 01.30 UTC | 28-May | AU Private Capital Expenditure (QoQ) |
| 12.00 UTC | 28-May | Germany Preliminary CPI |
| 12.30 UTC | 28-May | US Durable Goods Orders |
| 14.30 UTC | 28-May | US EIA Natural Gas Storage |
| 15.00 UTC | 28-May | US EIA Crude Oil Inventories |
| 23.01 UTC | 28-May | UK GfK Consumer Confidence |
| 23.30 UTC | 28-May | Japan Unemployment Rate, Flash Industrial Production, Retail Sales |
| 09.00 UTC | 29-May | Eurozone Flash Inflation |
| 12.30 UTC | 29-May | Canada GDP (Q1) |
| 12.30 UTC | 29-May | US PCE, Personal Income, Personal Spending |