Week Ahead: Tesla earnings and vaccine hopes to drive sentiment
Coming up this week – can Tesla do enough to justify its massive valuation with its second quarter earnings release? 
Tesla
 Q2 earnings
Tesla (TSLA) has enjoyed a stunning rally in 2020, rising 270% year to date. In the last 12 months, the stock has risen more than 500% in what can only be described as one of the most amazing turnarounds in corporate history. Over this period the S&P 500 has gained around 7%. Valuations are out the window and the stock is trading on tech multiples – some would say for good reason, but short interest in the stock – the percentage of shares out on loan to traders betting the stock will fall – remains relatively high at 7.5%.  
Tesla stock has soared in the last year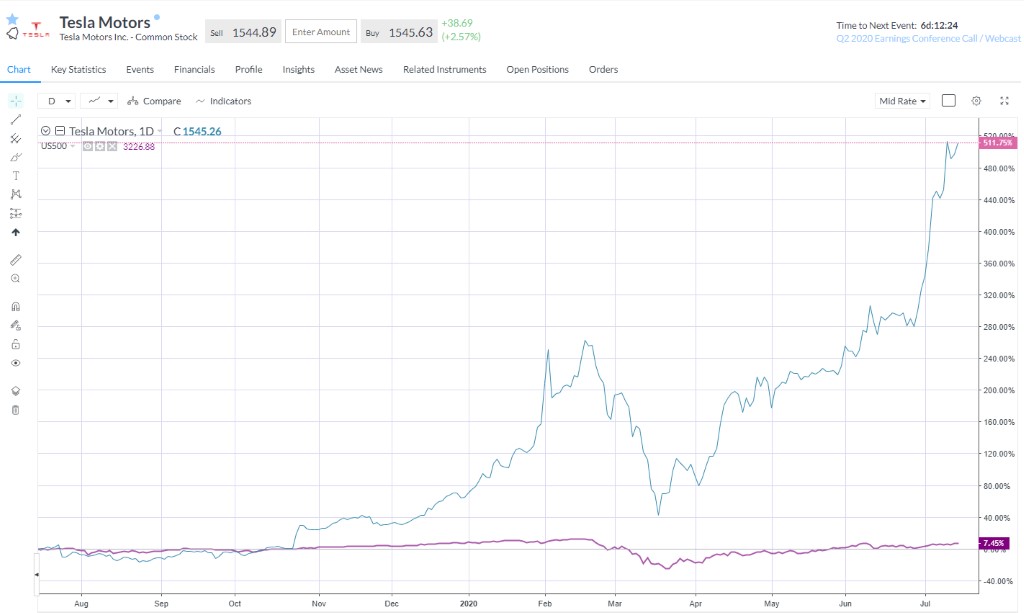 But it's back to basics this week as Tesla reports its Q2 2020 financial results. The company is likely to report a fourth straight quarterly profit on July 22nd, which would clear the way for it to enter the S&P 500, and may explain the recent rally as funds have decided they will need to own some of it. 
The stock pushed to all-time highs close to $1,800 after the company said it delivered 90,650 vehicles in the second quarter, well ahead of both what the company had guided and the Street expectation for 83,000 vehicles. The company has successfully ramped production at its Fremont site and the Shanghai plant also came back online after being forced to shutter in the first quarter due to Covid. China sales are picking up with Tesla selling almost 12,000 Model 3s in May. The stock also got a lift after Wedbush Securities increased its price target on the stock to $1,250 from $1,000, whilst the bull scenario got a PT of $2,000. 
Analysts remain divided on Tesla… 
…but hedge funds have been increasing their holdings 
Other earnings this week to watch come from Microsoft, Coca-Cola and Unilever. 
AstraZeneca and Oxford University vaccine results
Hopes for a vaccine continue to underpin equity market sentiment despite signs of a slower recovery than the V-shaped rebound everyone had hoped for. Much hope is being pinned on a candidate vaccine being developed by AstraZeneca and Oxford University – results from phase one clinical trials are due on Monday and could set the tone for the rest of week in equity markets. 
Also watch for a reaction in AstraZeneca shares, which have rallied strongly this year to make it the largest stock on the FTSE 100.  
Economic data to watch
As ever on Thursday we are anticipating an important update from the US which will help show the pace of reopening and economic recovery in the shape of weekly initial and continuing unemployment claims. 
On Friday we have UK retail sales for June, which are expected to show improvement after rebounding a healthy 12% in May following the –18% decline in April at the height of the lockdown.  
Friday also sees the release of the latest flash PMIs for the Eurozone, which a month ago showed a decent rebound. PMIs, which are diffusion indices, are particularly challenged by the speed and magnitude of the economic contraction. So, whilst they may make a V-shape, it does not mean the recovery is V-shaped. PMIs only ask if survey participants think things are better or worse than the previous month, so they give a pretty imperfect snapshot of economic activity in times of crisis. A reading over 50 only tells us things are better than the prior month, which right now is not a high bar to clear.
Highlights on 
XRay
 this Week
Read the full schedule of financial market analysis and training.
Top Earnings Reports this Week
Here are some of the biggest earnings reports scheduled for this week:
| | | |
| --- | --- | --- |
| After-Market | 20-Jul | IBM – Q2 |
| 07.00 GMT | 21-Jul | UBS – Q2 |
| Pre-Market | 21-Jul | Coca-Cola Co – Q2 |
| Pre-Market | 21-Jul | Philip Morris – Q2 |
| Pre-Market | 22-Jul | Biogen – Q2 |
| After-Market | 22-Jul | Tesla – Q2 |
| After-Market | 22-Jul | Microsoft – Q2 |
| After-Market | 22-Jul | Gilead Sciences – Q2 |
| 07.00 GMT | 23-Jul | Unilever – Q2 |
| Pre-Market | 23-Jul | AT&T – Q2 |
| Pre-Market | 23-Jul | Twitter – Q2 |
| After-Market | 23-Jul | Intel – Q2 |
| | 23-Jul | Southwest Airlines – Q2 |
| Pre-Market | 24-Jul | Verizon – Q2 |
| Pre-Market | 24-Jul | American Express – Q2 |
Key Events this Week
Watch out for the biggest events on the economic calendar this week:
| | | |
| --- | --- | --- |
| 01.30 GMT | 21-Jul | RBA Monetary Policy Meeting Minutes |
| 02.30 GMT | 21-Jul | RBA Governor Lowe Speech |
| 12.30 GMT | 21-Jul | Canada Retail Sales |
| 00.30 GMT | 22-Jul | Japan Flash Manufacturing PMI |
| 01.30 GMT | 22-Jul | Australia Retail Sales |
| 12.30 GMT | 22-Jul | Canada CPI |
| 14.30 GMT | 22-Jul | US EIA Crude Oil Inventories |
| 06.00 GMT | 23-Jul | German GfK Consumer Climate |
| 12.30 GMT | 23-Jul | US Weekly Jobless Claims |
| 14.30 GMT | 23-Jul | US EIA Natural Gas Storage |
| 06.00 GMT | 24-Jul | UK Retail Sales |
| 07.15-08.00 GMT | 24-Jul | Flash Eurozone Services, Manufacturing PMIs |
| 08.30 GMT | 24-Jul | Flash UK Services, Manufacturing PMIs |
| 13.45 GMT | 24-Jul | US Flash Manufacturing PMI |