Where next for TSLA after Musk's 'price is too high' tweet?
Tesla CEO Elon Musk knocked $14 billion off the value of his own company on Friday after tweeting that he thought the stock price was too high.
Musk posted "Tesla stock price too high imo" during a bizarre tirade of messages, that included railing against lockdown and sharing lyrics to The Star Spangled Banner. TSLA dived over 12% in response.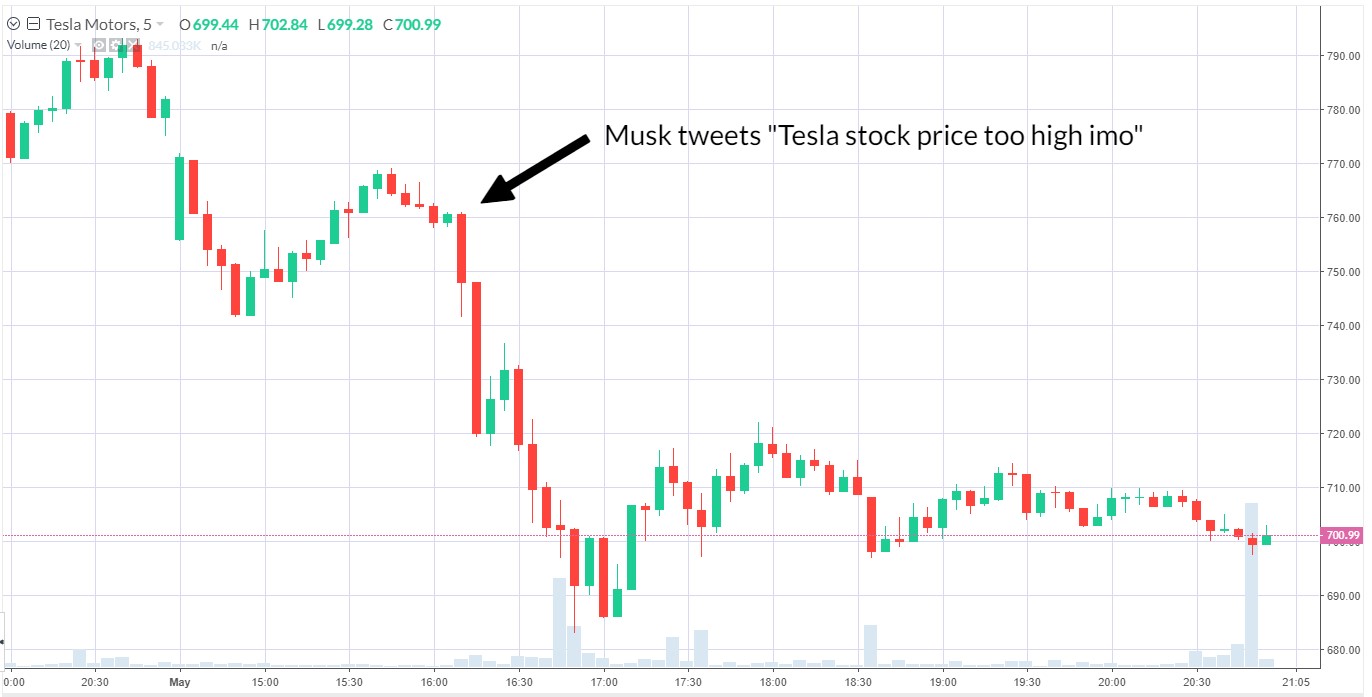 Musk is no stranger to expensive tweets. He had to pay the US Securities and Exchange Commission $20 million in 2018 after posting that he was planning on taking the company private again. He suggested a premium of $420 and that funding for the move was secured, causing the stock to leap over 6%.
The SEC alleged that, "in truth, Musk knew that the potential transaction was uncertain and subject to numerous contingencies.  Musk had not discussed specific deal terms, including price, with any potential financing partners, and his statements about the possible transaction lacked an adequate basis in fact."
Tesla was also required to pay a $20 million settlement, remove Musk from the board, and implement new procedures and controls with regard to the CEO's Twitter account. An in-house lawyer for Tesla is supposed to approve his tweets relating to company financial matters.
Musk breaks SEC settlement guidelines with TSLA tweet?
These controls clearly weren't working too well on Friday – in response to an email from the Wall Street Journal asking if the messages had been authorised or vetted, Musk simply replied "No".
Is Musk facing another spat with the SEC? Potentially. It's unclear whether commenting on the stock price counts as a 'financial matter', and therefore whether it should have been vetted before it was posted. However, if the SEC deems that it does count, Tesla's board of directors could also be in trouble, as it's the company's responsibility to see that these compliance procedures are followed.
A small fine here or there is nothing a billionaire need concern himself with, but the danger for shareholders is that the CEO and the board need to be on top form during these extraordinary times. The last thing a company like Tesla needs is for its CEO to be fighting with the US authorities – or the board of his own company.
Where next for Tesla shares?
Tesla shareholders have always had to contend with Elon Musk's erratic behaviour.
In October 2013 he claimed "the stock price that we have is more than we have any right to deserve" while opening a new showroom in London. He told reporters in September 2014 that "I think our stock price is kind of high right now, to be totally honest".
In February 2015 Musk took a different angle, claiming that Tesla could reach the same market capitalisation as Apple had ($700bn at the time) within 10 years. He repeated the claim in May 2017, but a couple of weeks later was back to stating that the current market cap was "higher than we have any right to deserve".
Even if Musk and Tesla escape repercussions from the latest tweet, this is just the latest in history of tweets from the CEO on the company's share price. Traders and investors need to be prepared for unexpected surprises.
Find the latest Tesla ratings with Analyst Recommendations
Tesla currently holds a consensus "Neutral" rating amongst Wall Street analysts and the average price target of $621.33 represents a 14% downside on the current share price.
Many analysts updated their ratings on Tesla on April 30th – the day before Musk's tweet about the share price. Check the Analyst Recommendations tool to see whether the CEO's comments change the view on the Street.