WTI rallies after EIA crude oil inventories data shows unexpected draw
Crude oil rallied and held gains after a big draw on US crude oil inventories. Crude stockpiles 5m barrels in the week to May 15th, Energy Information Administration said on Wednesday, against an expected build of 1.2m barrels. Gasoline stocks rose 2.8 million barrels vs an expected 2.1m drop. Distillate stockpiles were up by 3.8 million barrels, which was more than expected.
It comes after the EIA predicted a record fall for US production next month. Production in the top 7 shale basins is forecast to fall to 7.822 million bpd in June, down from 8.019 million bpd this month.
The fears are two-fold: one that as prices rise the shale supply gets switched back on, leading to a glut again; and two that the economic reality is worse than the market sentiment implies: demand is not coming back. The gasoline inventories are a warning to traders. Nevertheless the upwards thrust continues for WTI with momentum still apparently with the bulls.
Having cleared the 50-day SMA the rally has continued to the neckline of the V-shaped bottom and now bulls will look to close the Mar 6th-9th gap. The CCI is warning of a possible reversal on the cards with the divergence between the 20-day oscillator and the price action (pink lines) with lower highs made on the CCI. MACD still looks to be with a positive trend. The 200-day SMA is above but this is slightly disturbed by the negative pricing of the May contract which occurred after we had rolled to the next month.
The Spot (continuous contract) however shows a similar pattern as the 200-day line is approached at the topside of the ascending wedge.
WTI Crude Oil Futures (Aug 2020) price chart: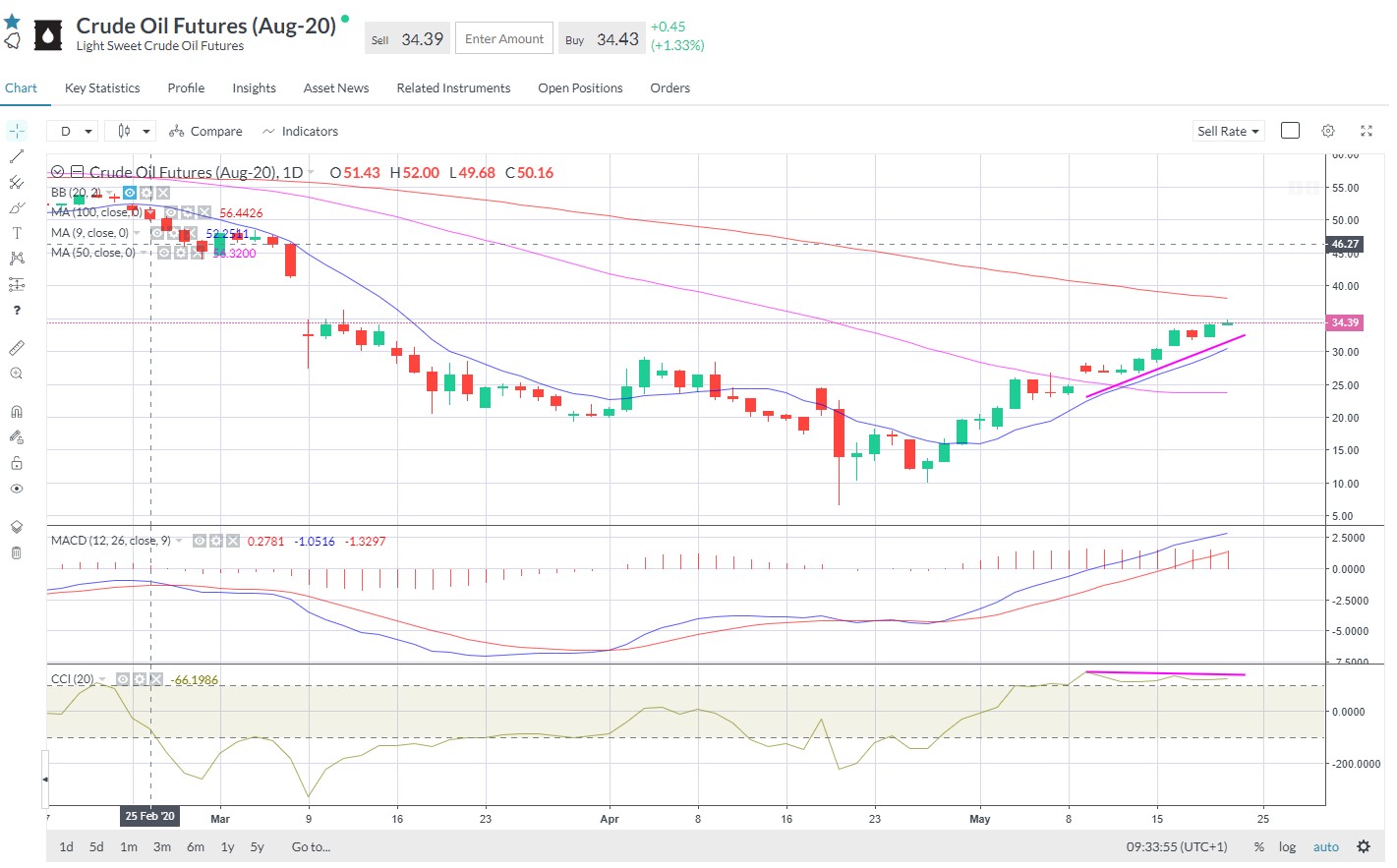 WTI Crude Oil Spot price chart: